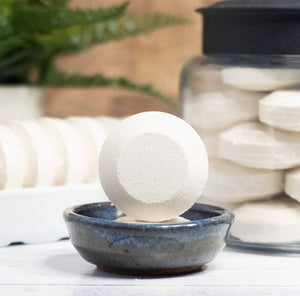 GritandGraceGA
Shower Fizz/Bath Bombs
Regular price
$6.00
$0.00
Unit price
per
Oh my HEAVENS!! These shower fizzes are the BOMB! (No pun intended, haha!) 
These are Made in the USA, Montana specifically and the smell is INCREDIBLE! If you have a head cold or stuffy sinuses, you NEED this on hand in your cabinet! 

Place in bottom of the shower AWAY from direct spray, sprinkle a little water on shower soother to activate and let the aromatherapeutic benefits work it's magic! 

Biolefin shrinkfilm (biodegradable), sulfate FREE, paraben FREE, phthalate FREE, NO ANIMAL TESTING! 
Sold in packs of 2. 

Rejuvenate- Eucalyptus Peppermint + Lemon 
Energize- Orange + Eucalyptus 
---